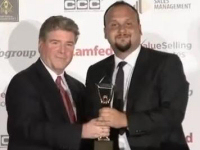 Certified by QA Technic Competence Call Center is one of only two European winners across 65 categories at this year's Stevie® Awards for Sales and Customer Service. In the category Contact Center of the Year over 100 seats the CCC team was awarded the 40 cm high, gold-plated trophy for its location in Istanbul.
Competence Call Center beat off competition from eight American finalists to receive the award. "The Stevie® Awards are among the most sought-after business awards in the world.
To hold this trophy in my hands is an incredible honour for both myself and my team, as well as the whole of CCC. I am very proud of the global recognition we have received and it demonstrates to our partners, that they have made the right choice in choosing CCC Istanbul", said a delighted Evren Erbasol, Call Center Manager, CCC Istanbul, following the event.
The award ceremony (Youtube Video)