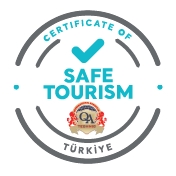 Safe Tourism "Safe Tourism Certification" program, one of the first examples in the world, was prepared under the leadership of the Ministry of Culture and Tourism, with the contributions of the Ministries of Health, Transport, Interior and Foreign Affairs, and in cooperation with all sector stakeholders
Safe Tourism Certification Program; It defines a series of measures that are recommended to be taken in a wide range from transportation to accommodation, from facility employees to passengers' own health status for all Turkish citizens and foreign visitors who will spend their holiday in Turkey.
Alberk AQ International Technical Control and Certification Inc.; Within the scope of the "Safe Tourism Certification Program", the certification body authorized to issue the "Safe Tourism Certificate" has been selected.
Alberk QA Technic; Accommodation Facilities, Food and Beverage Facilities, Culture and Art Facilities, Tour and Transfer Vehicles and Airports will be inspected separately within the framework of international standards. Hygiene and health inspection and conformity assessment will be carried out, reports will be drawn up, and inspectors will be sent regularly to the facilities that have applied to ensure that services are provided in accordance with the criteria.
The facilities that are entitled to receive a certificate will also be announced on the website of the Ministry of Culture and Tourism. The Healthy Tourism Certificate logo will be hung on the visible points of the facilities receiving the certificate, and customers will be able to access all inspection information about the facility thanks to the QR code on the document. In this way, the whole process will gain transparency.
To apply for the Safe Tourism Certification Program:
kalite@qatechnic.com
BURCU AYDIN
Phone: 0 535 961 00 35