QA TECHNIC GmbH is always by your side via its German Accreditation,corporate structure,personnel and value added audits.

ALBERK QA TECHNIC CORP. is able to offer DAKKS accredited certification service to its clients by countersigning Global Representative Agreement with ALBERK QA TECHNIC International Technical Inspection Certification Survey GmbH.


---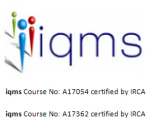 IQMS / England
Website : www.iqms.co.uk
ALBERK QA TECHNIC is the leader and one of the prestigious institutions within the fields of education-training, and research; moreover as being a partner of IQMS with headquarter located at Ireland; ALBERK QA TECHNIC is authorised institution for TURKEY within the fields of training and personnel certitication by offering IRCA recognised Lead Auditor/Auditor certificates .
---