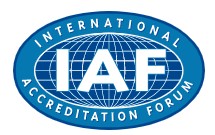 AF MD 9:2022 Guidelines; In addition to the requirements of ISO/IEC 17021-1 Application in the Field of Medical Device Quality Management Systems, it specifies the normative criteria of certification companies that audit and approve Quality Management Systems according to ISO 13485. IAF MD 9 was published on February 2022 and will be effective from 1 February 2023.

The IAF Medical Device working group recommended a transition period of 2 years. Changes in the IAF MD 9:2022 Guidelines apply only to certification bodies.

You can access the current guide from the link below.


https://iaf.nu/iaf_system/ uploads/documents/IAF_MD9_ Issue_4_010220221.pdf