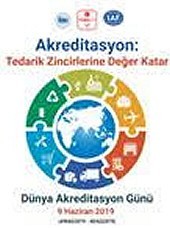 As a result of the joint initiatives of the International Laboratory Accreditation Association (ILAC) and the International Accreditation Forum (IAF), each year is celebrated as "World Accreditation Day" in order to increase accreditation and quality awareness and to bring accreditation to a wider audience. On the Accreditation Day, the theme of this year is "Accreditation: Add Value to Supply Chains".
Accreditation; health and medical devices, construction, energy, clothing and textiles, toys and electronics, information technologies and communications, operating in the supply chains of every sector from food security and water supply. Standards, conformity assessment bodies and accreditation activities; In addition to maximizing existing values ​​in terms of protecting people, systems and nature, it is also considered to be effective tools to maintain a certain level of confidence that products meet technical requirements and are safe to use.
Internationally recognized accreditation activities; It plays an important role in supporting public trust in issues such as human safety, environmental safety and public safety, reducing costs in business and business processes, developing technology transfer and increasing investments.
You can find detailed information and introductory materials on World Accreditation Day, from the brochures attached and on
www.turkak.org.tr
,
www.iaf.nu
,
www.ilac.org
and
european-accreditation.org
. In addition, we request your interest and support for the sharing of the materials from the relevant pages in a way that the employees of your organization and those receiving service from your organization can reach, and we thank you for your cooperation.
We celebrate your World Accreditation Day and offer our respects.